Ireland has long been a welcoming home to fantastic wizard rock (hello, Romilda Vane and the Chocolate Cauldrons!) and they've gifted us with another amazingly talented musician – Shauna Carrick.
Shauna recently released her first EP on Bandcamp, "Songs from Hogwarts" in November, and it's comprised of 5 quick but fun tunes that will be sure to get you singing along in no time at all.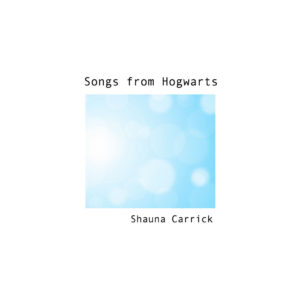 The EP kicks off with "Slytherins Have More Fun", an ode to the fact that Slytherins have a heck of a lot of fun, regardless of what all those other jealous houses say about them behind their backs. The chorus harmony vocals are a delight, and it's impossible to listen to this song without tapping your foot… even if you're a Gryffindor.
"We Fight" brings us Shauna's voice against a solo acoustic guitar, and some impassioned lyrics exhorting the defenders of Hogwarts to stand and defend their castle during Deathly Hallows. The chorus of this song is guaranteed to get stuck in your head.
Shauna's ukulele comes back out for "Justice for Lavender", a song that gives Lavender her due for putting up with Ron's crap and fighting valiantly during the Battle of Hogwarts. Her fate remains unknown in canon, and Shauna hopes that she made it through the battle OK.
Cho Chang gets a turn in the spotlight with "(Cho Chang) It's Not Your Fault", with Shauna correctly pointing out that she had a whole heck of a lot to deal with as a young teenager, and she still came back to Hogwarts to help fight.
The EP concludes with "Something Cute About Friendship", a meta-wrock song about all the wonderful friendships that wizard rock has brought to Shauna's life. I'm pretty sure all of us can identify the sentiment behind this upbeat closer.
Do you like wizard rock? Do you like well-written songs about Harry Potter? Do you like good music in general? If you answered YES to any of the above (and you should have said YES to all three), then head on over to Bandcamp to purchase "Songs from Hogwarts", give Shauna a follow on Twitter, and have fun wrocking out.