Editor's Note: Content on the 'pedia has been a bit light this year due to staffer schedules and responsibilities, however that certainly doesn't mean that there hasn't been any news or releases on the wizard rock front! In fact, this year has seen a number of album and EP releases from bands new and old, as well as releases from bands that wouldn't be considered "wizard rock", although their albums certainly are.
We wanted to end the year on a high note with reviews of some of the new music that was released in 2017. This is not intended to be a comprehensive write-up of every single track from 2017; rather, it's a way to give credit to the artists who are continuing to release fantastic wizard rock, while also hopefully introducing our readers to some new bands they may not have been aware of. 
As 2017 comes to a close and ushers in a new year, it's important that we reflect on what constitutes "wizard rock" in this day and age. While there are still a good number of bands that focus exclusively on writing material based on the Harry Potter books, other non-wrock bands have released music that definitely falls under the "wizard rock" umbrella.
In other words, one doesn't need to be a wizard rock band in order to release wizard rock music.
Just last month, the Cleveland, Ohio based Calling Back Kelly dropped their full length "The One With The Little Wizard Boy" on Bandcamp and we wanted to do this excellently-produced wizard rock album some justice.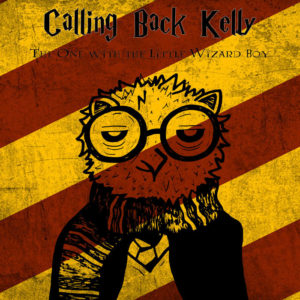 As a quick overview, this reviewer wants to note this right out of the gate – the whole album is full of sick guitar riffage and extremely thoughtful lyrics. "The One With The Little Wizard Boy" is definitely on the heavier side of wizard rock, it's not quite metal but falls on the hard modern rock side of music for sure. If you like pounding drums, thick bass, and excellent guitar playing, this is the wrock album for you. We also wanted to point out that this release is up on Bandcamp as Name Your Price, so you can get it for free, or offer a few bucks for the hard work that went into creating such a solid, well-sounding album. If you're looking for some new releases to crank, you have no excuse to NOT have this one in your wizard rock collection.
The album kicks off with the track "Privet Drive" which starts with guitar harmonics and a nice grungy thick bass tone. Lyrically, the song is from Hagrid's POV about having to stick Harry with those dreadful Dursleys as the book series opens. The music really kicks in for the chorus with nice drums and driving guitar, before coming back down to quieter guitar harmonics to close things out.
"Return to Sender" is an uptempo tune that reminds this reviewer of later AFI (in fact, much of the album does). Lyrically the song initially brings Aberforth to mind, complaining about how he felt Albus abandoned his family. It may not be his thoughts exactly (more on song meanings later), but once that theme got stuck in my head I couldn't get it out. "Obviously Always" follows, featuring fantastic drums and layered vocals. The lyrics bring us Snape's POV about his regrets, and the fact that he knows that he now has the life he deserves for his actions. Once again, the guitar riffing is on point, and musically, the song is relentless.
The fourth track "Hair of the Dog" is from Sirius's POV about how he's been driving himself for years purely on the thoughts of paying Pettigrew back, and doing his best to protect Harry. That's all that's been keeping him alive. That song is followed by "Minutes and Moments", which starts with slightly out of tune guitar to build tension before it really kicks into gear. This angst-ridden song is from Harry's POV about his realization that Dumbledore protected him in order for him to die. Knowing that his death is required to help defeat Voldemort weighs on him, along with the knowledge that others have died to help him when in the end, he still needs to die anyways. Some nice synth keyboard pads really help keep the tension throughout the song.
Neville gets some attention with the next track "Bloodline (Baby's First Heavy)"; and man, he just draaaaaaaaaaaaags Voldemort. The heavy riffs relay the pain Neville has over his parents' state thanks to Voldemort's orders. This song gives a real Helmet vibe while listening to it's heavy staccato riffing.
"Catching Smoke" is another banger, keeping up with the musical theme of the album. To be honest, there's a lot of uptempo angsty and pissed off songs with little respite to your ears. Now, I guarantee you that's not a problem for a lot of listeners, however I found myself wanting some quieter or down-tempo sections or songs to help make the crushing songs hit that much harder.
The lyrics in "Kill" seems like Snape and Harry are alternating verses about Snape's death in the Shrieking Shack, and how much they hated each other, but needed each other to survive. Snape's protection helped keep Harry alive, and that mission was what drove Snape. Unsurprisingly, the next song's title "Left Ear" gives the subject matter away – it's about George dealing with Fred's loss. He knows his life will never be the same, and he will be reminded of the worst loss of his life every time he looks in the mirror. In fact, the bridge mentions the Mirror of Erised and it's one of the more heartbreaking lyrics you'll hear in such an uptempo song.
Finally, the album ends with the track "Swanson's II", which is really only a quick snippet of Ron Swanson talking about the little wizard boy, which was the inspiration for the album title.
All in all, "The One With The Little Wizard Boy" kicks a LOT of butt, and if you like your wizard rock exactly that (ROCK!!!) then this is the album for you. Likewise if you like songs that don't hit you upside the head with the meaning behind the lyrics; the songs all easily stand on their own with themes of loss, anger, and pain. If you knew someone who was resistant to wizard rock but likes heavy music, this album would make a great introduction for them.
You can follow the band on Facebook, and if you do so, let them know what you thought about their recent release. It's great to see a muggle band pick up the wizard rock baton and run with it, and we can all hope that this won't be their last release in the wizard rock category.
Do yourself a favor – head over to Calling Back Kelly's Bandcamp, download the album, and CRANK IT. You won't be disappointed.