When Steph Anderson (our favorite pink-haired awesome Auror) presented at the Harry Potter Alliance's inaugural Granger Leadership Academy in 2014, she didn't know that her catchy slogan would become a fandom movement.
After learning about the premise of the first-ever GLA conference, she says, "I basically forced myself upon the HPA and badgered them until they included me." From there, she became a featured presenter, and her talk, the first utterance of "Yes All Witches," centered around what her early fandom experience was like as a woman.
Her experience at GLA stuck with her after she left. The response to her talk was so strong, it inspired her to write the song of the same name, and name multiple cross-country tours after it.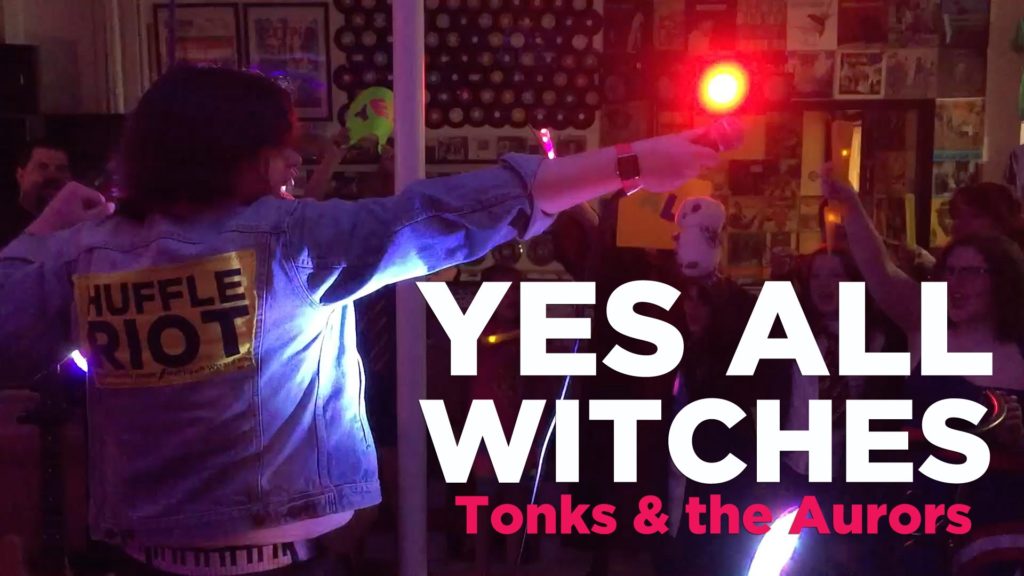 Steph was also able to transition her own catchphrase into the Yes All Witches micro-grant program, in partnership with Feminist Apparel. Despite initial reservations about a grant program, she decided to give it a try in the form of micro-grants up to $100 each. She decided to do micro-grants because, when looking back on her early wizard rock experiences, "it was small things that really changed the game for me." She's been keeping a list of possible things that recipients can do with the $100 grant, and it's a lot. So far the possibilities include everything from iTunes hosting to promotional buttons to CD pressing to recording equipment that's compatible with cell phone technology.
Feminist Apparel, for those unfamiliar, is an independent clothing company based out of Philadelphia, PA, and they pride themselves on "spreading feminism through inclusivity, positivity, and open dialogue." They offer clothing in a variety of styles and sizes, from baby onesies to 5XL, and they feature artwork from over 45 different artists, who also receive a share of the profits from their sales on a monthly basis.
Steph decided to partner with Feminist Apparel after she ordered their "I'm a Feminist and I VOTE!" tank top to wear at GeekyCon 2016. She hasn't been shy about her openness to like-minded partnerships, and Feminist Apparel fit the #YesAllWitches brand to a T. (Shirt. T-shirt. It's funny.) She reached out to the company, and learned that they were starting an ambassador program for high school and college students, which they decided extend to Steph, too. By using the code "YESALLWITCHES10" on their site, orders are 10% off, with $3 going into the grant fund.
Steph plans to start the grant program with fandom musicians, "with a focus on trying to promote and partner with women and other minorities to make the scene more diverse." From there, who knows where it could go. "Maybe fan artists and fanfic authors? Musicians more fandom-adjacent who have a passion for more diversity in their communities? The world is pretty wide open, and I'm excited to see where this goes."
Applications for grants will be accepted from November 2016 through January 2017. They'll be accepting applications in a variety of forms: essays, videos, etc. Applicants should be prepared to discuss what getting a Yes All Witches grant would mean to them, and how their specific viewpoint is important to the fandom at large. The selection process could take up to a month, which just gives more time to build up the fund through Feminist Apparel orders. Steph is planning to track output from grant recipients and share updates, so recipients should expect to submit regular updates on their progress and growth. Interested fandom musicians can get more information at the Yes, All Witches site.
Steph hopes that the Yes All Witches grant program doesn't just stop at the money, but that it will be a community in itself, with mentors guiding grant recipients to further their art. Steph sang it herself: If you want to be a bad-ass witch, become a feminist. If you want to help out bad-ass witches, grab a shirt from Feminist Apparel, use the code, and wear it with pride.
Go forth, Hogwarts Nation.