January brought us a new year, and with it a new release from a brand new band – Germany's Pottörhead dropped their debut album "Wizard Rock" on us all just a few days into 2018.
When we happened to stumble across one of their introductory videos on Twitter, we knew that we had to get our hands on this release as soon as it came out. It seemed like the band apparated in from seemingly out of nowhere, but after talking with the band's founder Jutze Schult, we discovered that wasn't the case at all.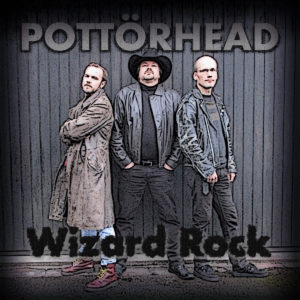 Pottörhead's debut album brings wizard rock fans 18 tracks of punk & pop (but not pop-punk) tunes inspired by Harry Potter. That seems like a lot of music, but the whole album clocks in at only 37 minutes – the longest song is 3:29 ("Polyjuice Love Ballad"), with the bulk of the songs running at just around 2 minutes long. Jutze, the band's vocalist and guitarist, said that Pottörhead has a "desire to play catchy rock/power/pop/punk music without overthinking it", and they nailed that with this release.
Jutze let us know that they're heavily inspired by The Ramones, Roxette (a number of their songs feature female lead vocals), Motörhead, and Alkaline Trio to name a few, and that's readily apparent in their musical style. Jutze, along with Lars Battnott on drums/backing vocals and Horst Helmut Kronbichler on bass, first began writing songs in 2013, however by November 2017 they decided it was time to finally hit the studio and get that debut album recorded.
If your idea of wizard rock is based heavily on early Harry and the Potters, then you're in luck. Pottörhead's sound reminds me so much of those early wizard rock songs. Slightly irreverent and just a bit tongue in cheek, the music gets in, gets to the hook, and gets right back out. This helps the album move right along and keep the listener engaged; no, the band's not the greatest musicians or singers in the wizard rock pantheon, but dammit they're having fun, and you're going to have fun right alongside them.
The songs themselves hit on lots of topics in the Harry Potter universe… and then a few more. Wanting more books about Harry Potter? Check. Spells going wrong? Check. German wizarding schools? Check. Using magic to get your drummer to play in time? Check (although I think they really meant "bass player" because they mention how much he kept drooling). The pitfalls of bringing polyjuice potion into your marital relations? … Uh, yeah, there's a song about that too. Likewise a tune about unicorn poop. This release has it all. Literally. According to Jutze, many of the songs began with the idea of a funny title, which isn't surprising after listening to this album.
There are also plenty of pop-culture and current references in the songs too, which in their own unique way may make the band more accessible. Monsanto, John Fogerty, veganism, ZZ Top, Edward Snowden, and a whole bunch of current actors that don't actually appear in the HP movies are all namechecked at various points throughout the album, if not being the outright subject matter of the song at hand.
We mentioned this above, but it's going to get repeated again – this album is FUN. Also, it's FREE. Well, technically it's Name Your Price at Bandcamp, and yes $0.00 is an option, but we highly recommend naming a small price just as a way to say THANKS to Pottörhead for their time and effort to release EIGHTEEN songs for us all to enjoy.
If you dig the band and want to encourage them to release more wizard rock, be sure to follow their Tumblr page after you download/buy their album "Wizard Rock" on Bandcamp. Then, kick back with some black coffee and organic butterbeer, and crank up Pottörhead as loud as you can.