Ludo Bagman and the Trash released their first album this past July, under an inventive new genre: BAG ROCK. Don't bag it till you try it, folks.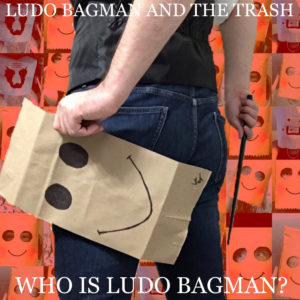 The album itself is a mixed bag of styles and instrumentations. It opens with "Song From Ludo's Mom," which is my tied-for-first-place favorite cover of a Katy Perry song (the other contender is Errandofmercy's Dark Arts from the 2016 Wizard Rock Sampler). This song is backed by ukulele, and it emphasizes the individualities between all the different kinds of bags you can identify with, except plastic bags, because it's actually not okay to feel like a plastic bag.
Next we go into "My Quidditch Days," in which an acoustic guitar emerges from Ludo's bag of tricks. In this song, Ludo unpacks the baggage of his infamous Quidditch injury that sent him into the Ministry.
"It's All Fun and Games" is up next, which features a more rock-style electric guitar. Cat's out of the bag, folks: it truly is all fun and games (in this case, the Triwizard Tournament) until someone dies.
"The Night They Burned It Down" takes a melancholy turn, where we see Ludo half in the bag and mourning the events at end of the Quidditch World Cup. What was once a way to relive his former glory, a lucrative gamble, a celebration, was turned into a nightmare when the Death Eaters attacked.
The album closes with "Bag PSA," which is actually the first song that was released in April 2017 as sort of a teaser for the album. It also lives on Bandcamp as "The Bag Song" and brings us back home with the ukulele, but this time we've got some drums and a bass line. We're at the bottom of the bag now, but Ludo reminds us that it's okay to feel the need to cover our face or hide our emotions, that's what bags are for! Just make sure it's not plastic ('cause you'll probably die).
Also available from Ludo Bagman and the Trash:
Just Say No (October 2017) My favorite lyric? "You have just what it takes, to show them that they don't make, the wizarding world great with their hate".
A Very Merry Bagmas (December 2017; just released YESTERDAY!!!)