The holiday season is nearly upon us, and if you're the type to celebrate by gift-giving (or gift-receiving) then here are some ideas to help you figure out what to get for the wizard rock fan in your life.
I need a present that can be worn – the world needs to know my love of wizard rock.
You've got a lot of great options here. Let's start with three shirts from Lauren Fairweather: Harry I'm Coming Home, My Muggle Friends Just Don't Understand and It's Real For Us.
Tonks and the Aurors has a pretty robust merch shop! Perhaps a Huffle Riot shirt for the Puff in your life? Or maybe get radical with a Yes All Witches patch or a Witch Gang t-shirt. Spiffy!
Draco and the Malfoys have a variety of t-shirts (many of which are on $5 clearance!) as well as bracelets for the evil-wizard-rock fan in your life.
The Mudbloods have a Peace & Love & Happiness venn diagram shirt that will be an instant hit with your recipient. Nerds love venn diagrams.
Harry and the Potters also have a few shirts up for grabs, including the classic Save Ginny design and the ever-important message I Only Listen to Wizard Rock.
Clothes are nice, but how about some home goods?
Try the Harry and the Potters mug featuring the lyrics "I'd rather not talk about your dead ex-boyfriends over coffee." Subtle and perfect for a housewarming gift.
For those who like something a bit stronger to drink, consider these HP-inspired flasks by The Blibbering Humdingers.
Or enjoy Draco and the Malfoy's assortment of lunch boxes, mugs and beach balls. Party like you're evil from the comfort of your own home!
Those are well and good, but I like my gifts to also help make the world a better place.
This year Steph Anderson of Tonks and the Aurors launched a Yes All Witches grant program to help minority members of the wizard rock community carry their art forward. To fund these grants she has partnered with Feminist Apparel, a company that makes cool clothing designed by independent artists. Shop there and use the coupon code YESALLWITCHES10 – that will not only donate part of your purchase to the grant fund, but also save you 10% on your order! With free shipping, it's a hard deal to beat.
The Harry Potter Alliance has been doing good nonprofit work for years, and you can support them by checking out their sweet store. There you'll find such wizard rock gems as this Weapon We Have Is Love poster and both the 2008 and 2009 Wizard Rock EP of the Month Clubs – a must-have collection for any wizard rock collector. You can also buy some compilations they recently released online for the first time, including A Tribute to Harry and the Potters!
Could you recommend a gift that's a little more… gay?
Sounds like you're looking for something from Tianna and the Cliffhangers. How about this awesome package – an "Everybody Ships Drarry" t-shirt designed by the artist herself combined with a hard copy AND an instant download of her 13-song album "Picking Up Where You Left Off," full of nerdy queer anthems.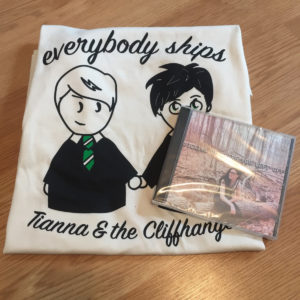 That's cool, but CDs are so old-fashioned and digital music is impersonal.
Tough customer, eh? Good thing Harry and the Potters have an album on VINYL. Treat your hipster ears to a complete live recording of the 2008 show at the New York Public Library. It will feel like you're actually there!
I'm broke, but I still want to give a gift that shows off my excellent taste in music.
The 2016 Wizard Rock Sampler has nineteen (NINETEEN) different songs by nineteen (NINETEEN) different bands. It's some of the latest and greatest wizard rock out there, and it's available for free download. That means you can either e-mail the album straight to your wrock-loving friend for a perfect last-minute gift, or you can download the songs and put them on a USB drive or burn them to a disc which you can lovingly decorate and wrap. Cheap and magical!
My friend has already heard all of the wizard rock that's out there. How can I impress?
The best gift you can give a wizard rock fan is new wizard rock. So write some! Write some lyrics, jam on an instrument, make a ridiculous YouTube video – BAM. Best gift ever.
These gifts are good, but I need to really show that I care with something crazy expensive.
Well, nothing can compare to the live experience when it comes to wizard rock. Consider buying registration for an event like Misti-Con in New Hampshire or LeakyCon in Ireland, both of which usually have a great wizard rock showing. If your gift-recipient is already planning on attending a big con, contribute to their travel and lodging costs! And go with them to wrock out – because the best gift is being part of the magic.
Thank you! These presents are perfect – now if only there was a way to wrap them nicely…
Oh, didn't you know? Draco and the Malfoys wrapping paper. It's real, and it's awesome.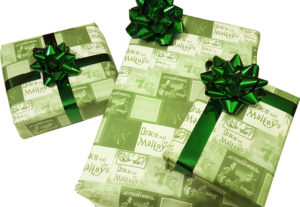 Happy gift-giving, everybody!