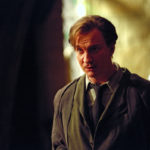 Remus Lupin is one of the most-loved characters in the Harry Potter series, and he also happens to be a character that's had a lot of songs written from his perspective and about him. Because of his backstory, there's a level of raw emotion that makes you feel everything in many of these songs – but that's not to say there aren't some really great funny songs about him as well. Here's a list of songs that celebrate his character in ways that wouldn't be possible without music.
NOTE: This is not an exhaustive list, and these are in no particular order. The majority of these songs can be found on Spotify or iTunes, but there are a few that have proven hard to find online.
Lupin's Tale (Where are We Going) – Oliver Boyd & the Remembralls 
This is one of my all-time favorite wizard rock songs. Ever. It really gets inside Remus' head (and is one of the only songs by a non-Remus centric band that does so), and as usual, the lyrical genius of Christian Caldeira shines through in this ballad you can't help but jam to.
Lyric highlight: "Oh, when I was young, I'd hide from the world all those lonely nights/And I still can't believe my friends transformed, to help me get by."
If Loving You is Wrong Then I'm A Werewolf – Bella's Love 
Here's one that I'm not sure a lot of people know about. I was a huge fan of Ben's album "The Standard Book of Awesome" when it came out, and this song still stands the test of time. If you're a big fan of brutally honest, acoustic wrock and Remus/Tonks, this one is for you.
Lyric highlight: "I know I've been standoffish, I know I've been a dick/I know you've gone to Dumbledore about us/Harry said your Patronus changed after you got off that train/I'm so sorry about us"
Wolfstar – The Whomping Willows
For all of you who aren't the biggest fans of Remus/Tonks, there are a couple of great Remus/Sirius songs out there, and this is one of them. It's always really great to see things that aren't necessarily canon make their way into wizard rock, especially because it's validating for fans who identify with the relationship in question. The tune is really catchy, so get ready to dance!
Lyric highlight: "You know you're made for each other, it's been that way all along/When the moon aligns with the dog star, the chance for true love is strong"
Werewolf Love – Tonks & the Aurors
Here's another Remus/Tonks song, and lucky for you, there are TWO versions of it! It was released on both "The Pink Album" and "A Familiar Beat" in two different styles (rock and Motown) and both are great if you're looking for something you won't be getting out of your head for awhile.
Lyric highlight: "The man I love was bitten one night, when he was young but yet he still survived/But look at the man he has turned out to be, and he has learned to love me"
My Teacher is a Werewolf – Harry and the Potters
This was one of the very first songs written about Remus Lupin (if not the first), and it was written before we even read the last three books in the series. At just 36 seconds long, this bona fide classic is not only a quick listen, it's got some awesome lyrics too.
Lyric highlight: "My teacher is a werewolf, he's liable to bite someone in class/He's locked inside the Shrieking Shack"
Love Song for Professor Lupin – The Parselmouths
Here's another old school wrock song – it would be just wrong to write a list of songs about Remus Lupin and not put this one on it. This one is just classic Parselmouths, tambourine included.
Lyric highlight: "I wanna tell you 'bout a little secret, Professor Lupin/I'm sure that Dumbledore wouldn't approve/Of the crush I had on a former teacher/What can I say, I guess werewolves are kinda cute"
More Than Just a Werewolf – RiddleTM
Finally, if you're looking for a song to stab you in the heart, this would be the one. Written from Harry's perspective during Deathly Hallows after Remus walks out on Tonks, it's a reassuring ballad that tugs on your heartstrings a little bit more once you realize that Remus won't *actually* be physically able to be Teddy's hero.
Lyric highlight: "I know why you're scared now, take it from me/It's complicated conforming to society
You're just a monster, but think of what you are to her/So much more than you have ever though you could be"