In one of the biggest (and most welcomed!) surprises in recent wizard rock memory, The Mudbloods announced that they're dropping a brand new release "The Time Turner EP" during their set at LeakyCon!!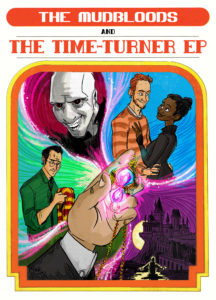 The EP is now available on their Bandcamp page, as LeakyCon attendees were the first to be able to buy the new release. Those not lucky enough to be at Leaky can purchase a digital copy right now!!
We were very lucky to receive an advance copy of the EP a few weeks back, and let us be the first to tell you – it's pure 100% The Mudbloods. It's somber, authentic, heart wrenching, beautiful, and joyous all over the course of six amazing songs.
After some discussion among the staff, we decided NOT to write a review of the EP… at least not right away.
Instead of writing some words that could never accurately convey the emotion and depth behind these songs, we'd rather you go out and get the EP for yourselves and listen to it for the first time without any expectation or knowledge of what you're about to hear.
We want you to feel the same things we felt when we heard the first new music from The Mudbloods in almost 8 years. To rob you of that experience would be a disservice, in our opinion.
So go grab your copy of "The Time Turner EP" and listen with open ears and open hearts. Then in a little bit, come on back for our full review and we can discuss one of the most unexpected yet highly sought after wizard rock releases in years.