Mudblud first burst onto the wizard rock scene roughly a year ago with a slightly different name (The Mudbluds, which sparked just a tiny bit of confusion with some fans) and a whole lot of volume. Their 2015 debut EP "Wizard Rock Is Not Dead" kicked out 4 songs in a grand total of just about 7 minutes in a pop-punk style very similar to Lifetime and Saves the Day. The songs on that release are short, fun, and easy to get into on the first listen.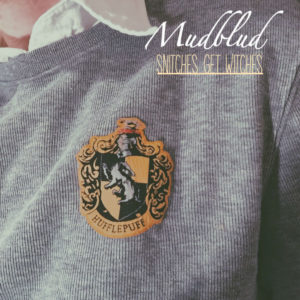 To follow up on that quick little wizard rock gem, Mudblud released "Snitches Get Witches" this past July. Mudblud's second EP is available as a "name your price" download on their Bandcamp page (as is their first release as well, for fans who don't have it yet), and we gave it a good listen.
While all of the tracks on this EP are acoustic, unlike their first release that featured a full band, the tunes all pack a good punch. Here's some Wizrocklopedia insight on the songs of "Snitches Get Witches"!

The EP kicks off with a short skit/intro track called "Enter the Great Hall", which is mostly crowd noise and Hogwarts students asking someone to pass the pumpkin juice before Professor Dumbledore introduces a special guest – Mudblud.
"The Sorting Hat Gave Me Head Lice" starts the album off with a quick song about a Hogwarts first year who's name is at the end of the list of new students who all have to try on the Sorting Hat to be sorted. Unfortunately for him, he ends up getting head lice from some of the other kids who wore the hat before him… and there's no magical cure.
"She's a Keeper" starts soft but quickly kicks into gear as our singer lets us know he's head over heels for another Hogwarts student. And to use the usual Quidditch analogy, yes, she's a keeper. This tune's a veritable epic opus in comparison to the other songs, clocking in at 3:40 long.
Next up is Mudblud's cover of the Harry and the Potters classic "Save Ginny Weasley", done in acoustic pop-punk style. The song gets a nice double-time feel, which works well. "Honeydukes Express" is a short 30 second long tune that's essentially a food order from the Trolley Witch on the Hogwarts Express.
"There's Something Living in the Lake" is an ode to the Giant Squid, complete with water bubbling sound effects. The EP closes up with "Wizard Rock Wrap" which features vocalist Dakota Gilliland riffing some lines over an acoustic guitar backing track. The choruses give props to wizard rock's popularity while the verses have a bit of a free flow feel to them. Even with the flow of the verses, this track still feels like the most prepared and in-depth tune on the EP.
"Snitches Get Witches" is a fun little release that made me feel like I was listening to Saves The Day's Bug Sessions series of acoustic EPs. Quick tunes with nice melodies and decent guitar playing are the play here, but I couldn't help but feel like I wanted more. More songs, or more in depth sections to the songs themselves. That's definitely a credit to Dakota's songwriting, as he left me wanting to hear more, but a bit disappointed that the EP was so short.
As someone who loves the good crunch of distorted guitars and thumping kick drum, I'm hoping that, for their next release, Mudblood brings back the full band and also gives wizard rock fans a full length album. Until then though, their two EPs (which, again, are free downloads on their Bandcamp page) should be enough to hold everyone over.