Editors Note: "Unexpected Wrock" is a new column that will be featured periodically here on the Wizrocklopedia. As wizard rock has grown and expanded, many other bands and performers who may not necessarily be considered "wizard rock bands" have been performing & releasing songs that definitely fit the definition of wrock. As a result, many of these releases may have slipped under the radar, so to speak.
Our goal with this column is to help introduce wizard rock fans to these "unexpected wrock" finds in order to help them grow their music collections while bringing attention to the muggle artists who have released some great Harry Potter based songs.
Lots of fantastic music has come out of The Great White North, such as bands like Oliver Boyd and the Remembralls, The Nifflers, The Hufflepunks, Rush, Neil Young, Nickelback, Barenaked Ladies, and many more. We here at the 'pedia think this release fits right in with that list – the "HP EP", by Corbad.
Hailing from British Columbia, Corbad has a number of EPs up on their Bandcamp page, including an 8 song Lord Of The Rings release, along with EPs about The Hunger Games and Robin Hood. Almost all of the EPs are available in the Pay What You Want format, with a minimum purchase price of $0. So essentially, they're free. Corbad also has a website filled with poetry and short stories, but aside from that, not much more information can be found  as to why they chose to release an EP of wizard rock songs.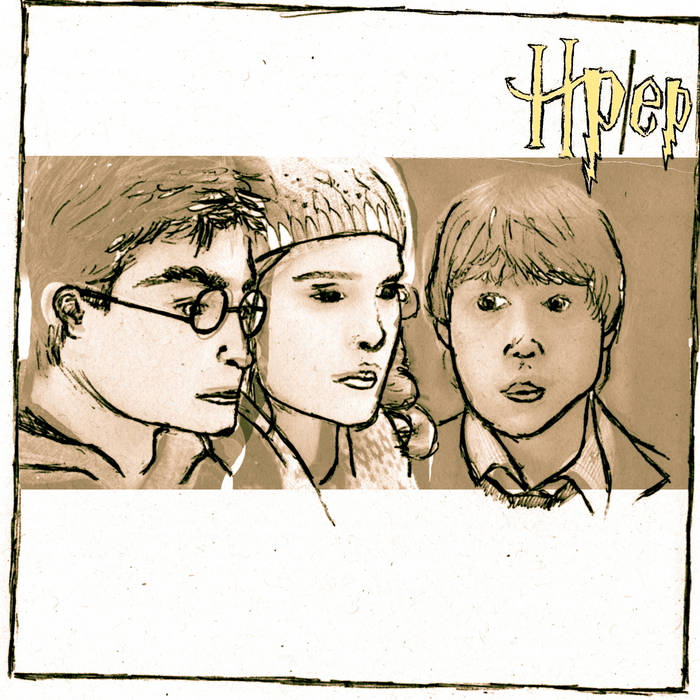 The HP EP was actually released in 2011, so this quiet little slowcore/folk gem has been in our midst for over 5 years now. The instrumentation on this EP is sparse, and sounds as if it was recorded live in Corbad's living room. The DIY quality of the recording just adds to the aesthetic of the five songs on the release, however, making it an intimate and touching collection of songs. Let's put it this way – if this EP was a fanfic, it'd be the #1 search result for "Angst".
The EP opens up with the track "Wizard", which finds the Golden Trio of Harry, Ron, and Hermione as adults looking back on meeting on the train to Hogwarts. Quiet strumming acoustic guitar and banjo carry the song instrumentally, lending an alt-country feel to the tune. The lyrics feature lots of repeated vocals that emphasize the strength of their relationship – lines are often repeated three times, reflecting the three of them in the trio. One of the more touching lyrics talks about how the Hogwarts Express always took them to the place they called home. The end of the song brings a bit of a twist, and makes it seem like the whole song's been from Ron's POV (or movie Harry's. But let's go with Ron).
The second track "Harry" features lyrics from Ron's POV about Harry not needing to do things alone. He repeatedly mentions that he's by Harry's sister's side (Hermione). There's a great part in the song where the lyrics talk about them being the heart that beats within Harry's chest, and music drops out. There's just a foot thumping on floor to simulate a heartbeat; a simple yet perfect musical touch.
"Ron" is a lot more upbeat than the previous two songs, and is from Hermione's POV. The song breaks their relationship down to the core, with Hermione telling Ron that he's great and she chooses him. In fact, she's always chosen him… even if he's a bit thick at times.
The fourth track takes us to the other side of that relationship in "Hermione". This one, as you probably guessed, is from Ron's POV about how Hermione was truly the heart & brains behind the trio. She was the reason he went back to them in Deathly Hallows. Softly sung, with some slight falsetto, this earnest song of just a single guitar and voice is a quiet prelude to the final track.
The EP closes out with "This Is A Beautiful Place To Be With Friends", as Harry looks back on Hogwarts as an adult and remembers just how much he needed Ron & Hermione the whole way through his journey. The song slowly builds as Harry recalls Hagrid's hut, the Burrow, butterbeer, and his various relationships and emotions. His story builds to a climax, complete with screaming backing vocals over a heavily strummed guitar, before the song drops back down to simple quiet voice as it, and the EP, comes to an end.
Corbad's "HP EP" reminds us of wizard rock's ultimate core – a bit lo-fi, slightly out of tune at times, DIY, and most importantly, heartfelt. While the band itself isn't a "true" wrock band, the EP is an overlooked and underplayed wizard rock gem. If the quiet grace of The Mudbloods acoustic songs, combined with Riddle TM's tugs at your heartstrings is your cup of Hagrid's tea, this release is a must for your wizard rock collection.